Radiant Snowmelt Systems - Customer Comments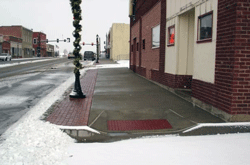 "I contacted Warmzone and explained to their sales staff what our project would consist of and what we wanted to accomplish. The staff designed our system, ordered the materials and made sure that they arrived on time, and they were there whenever we needed their help. They worked with our electricians to solve problems or answer questions as they came up and were willing to go that extra mile when needed. I just wanted to let you know that you have a terrific staff who are highly knowledgeable, truly professional and care about their customers. During the most recent snow event it was interesting to see that the sidewalks were completely dry and free of snow while the plow trucks were still pushing the snow off the roads. The City is very pleased with our heated sidewalks and would highly recommend your product."

— Joe (Public Works Director)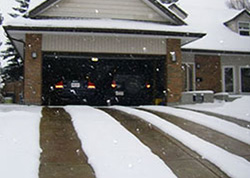 "This past weekend, we received over 4 inches of snow and temperatures were around 15 degrees Celsius. That's like Green Bay cold! But, as you can see from the photo, the heated driveway is doing its job…

When I'm outside, a lot of folks in my neighborhood stop and have conversations or ask questions about the heated driveway. I know that some think this would be extremely expensive to operate, but last month, I saw only $150 increase in my electrical bill, and that was with all my Christmas lights on every night.

Also, we only have two or three months of significant snow in Calgary, so it won't break the bank, or my back (shoveling); and delivery people don't have to crawl up the slope in fear of slipping anymore!"

— Dennis (Homeowner)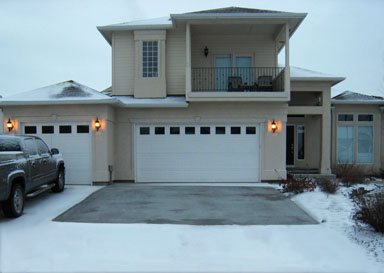 "This last summer, I installed the ClearZone heating cables in my driveway. I have a north facing home and the sloped driveway does not see the sun in the winter. This combination creates a slippery condition all winter long. I contracted out the concrete removal and pour. With the help of some friends, neighbors and my wife, we were able to layout all three cables in one day.

The first snow fall this winter was the test and the driveway has been ice and snow free all winter! The option to manually turn on the heat system has not been needed since the sensor works so well. My wife and I are very pleased with the results and feel much safer walking outside during the winter now!"

— Dan S. (Homeowner)

"The decision to go to with Warmzone was very simple. They had knowledgeable personnel who were very service oriented. My phone calls and emails were answered promptly. Every question I had was answered and great suggestions to improve the installation where made.

An investment in a unique product was made with confidence by the owners after hearing about the energy savings and ease of installation. I am really looking forward to the first winter event with a nice warm environment for our guests."

— Suzanne S. (Devenney Group Architects – for St. Joseph's Hospital)
"Just wanted to say, I'm most thankful for the extra mile you guys went to ensure the snow melting system was installed correctly and works properly. On a scale of 1 to 10 regarding customer service/customer care, Warmzone receives 10+++ in my book!!! I truly look forward to working with you guys in the future."

— John A. (Homeowner)

For more information on driveway heating and radiant snow melting systems, please contact us.

Automated Driveway Heating

Heated driveway and snow melting systems feature energy efficient, maintenance-free automated operation. The electric radiant heating systems detect precipitation and automatically switch heat on and off as needed.




ClearZone heating cable is one of the industry's most highly regarded radiant heating cables, and comes with a 10-year manufacturer warranty. The cable distributes heat evenly to the structure, providing a heated driveway and/or sidewalk that is automatically kept free of ice and snow throughout the winter.




The fully programmable snow melting system makes labor-intensive snow shoveling and the use of harsh chemicals and salting a thing of the past.




Radiant heated driveway systems can also increase the life span of the driveway by eliminating salt corrosion, frost damage, and potential damage from snow plows and other manual snow removal methods.