Automated Heated Driveways and Snowmelt Systems
Radiant Heated Driveways are Fully Automated and Maintenance Free
Radiant heated driveway systems are being installed in residential and commercial properties at increasing rates as home and business owners discover the affordability and advantages of automated electric snowmelt systems. Energy-efficient, maintenance free and remarkably effective, radiant heated driveway systems and snowmelt solutions offered by Warmzone are making life easier all across the country.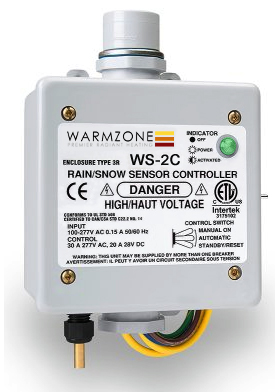 Heated driveway systems efficiently utilize radiant heat, a technology first introduced by the ancient Romans. Of course, technology has come a long way since the days of the Roman Empire, but the principle of radiant heat remains the same.
Today, the two methods of providing radiant driveway heat are electric and hydronic. Both systems require heating elements to be embedded within the driveway's concrete or asphalt surface. Electric driveway heating systems utilize durable line-voltage heating cable, while hydronic snow melting systems generate specially treated hot water that is pumped through a closed loop of plastic PEX tubing. The embedded heating elements of both electric and hydronic snow melting systems generate heat that radiates to the surrounding area to prevent snow and ice from accumulating on the surface.
Heated driveway systems utilize an advanced snow sensor that automatically activates the system when precipitation is detected and temperatures are below a set point (typically set at 39° Fahrenheit). Electric radiant heat systems have an extremely fast response time, operate silently, heat surfaces much quicker than hydronic heating systems, and tend to be more efficient and maintenance free.
Both radiant heat systems have their advantages; however, the electric systems are gaining popularity because of their price, convenient operation and ease of installation. For some who are considering hydronic heating systems, the uncertain future and ever-increasing costs of non-renewable fossil fuels are obstacles that must be addressed prior to purchasing these snow melting systems.
Check out the driveway heating and snow melting options that are available. Warmzone system designers can design a system that best suits your snow melting needs, as well as fit your budget.
Contact us to begin designing your custom heated driveway system, or call a friendly radiant heat professional today.
For more information about snow melting, floor heating, or roof de-icing systems, call 888.488.9276.