Electric Heated Driveways
Energy Efficient Snowmelt Systems
According to radiant heat experts, the most popular time to install a heated driveway is during the late summer and fall. However, early spring may be the best time to purchase a radiant heat system because that is when there is less demand, which may translate to discounts or slightly lower prices for you.
If you are remodeling or building a new home in a cold climate region, plan for the winters by exploring the options of installing a radiant heated driveway. These electric snow melting systems are fully automated and virtually maintenance free, providing reliable, energy-efficient performance, and eliminating the need for manual snow removal or the use of harmful snow melting chemicals.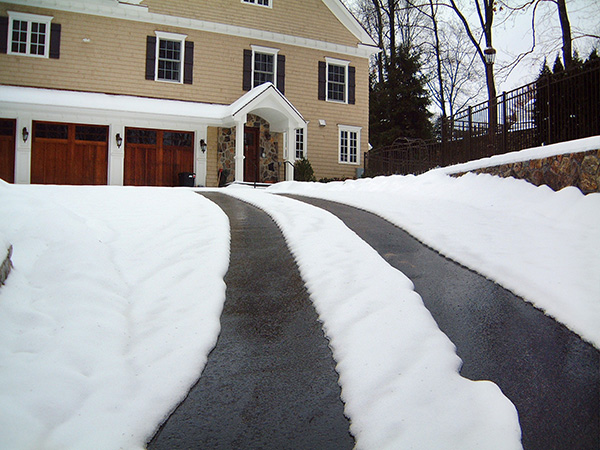 Installing a heated driveway during spring or summer – before cold weather hits – is ideal for several reasons. The optimum temperature for curing concrete is between 65 and 85 degrees Fahrenheit. This is crucial in order for the concrete to cure correctly and maintain its maximum compressive strength rating, ensuring the cement's durability and enhancing its life span. So, if you are considering installing an automated heated driveway system, don't wait until winter hits to begin construction. And believe it or not, installing a heated driveway is surprisingly easy, and one sure way to take the chill out of the arrival of winter.
With energy costs continuing to soar, consumers are searching for the most efficient ways to take the "sting" out of their heating bills. Consequently, homeowners and commercial property owners have not only discovered the appeal of energy efficient, indoor electric radiant floor heating options, but also of outdoor snowmelt systems, such as heated driveways, walkways, staircases and more.
Given the benefits of maintenance-free operation, reliable performance and affordability, it's no wonder that heated driveways are becoming more commonplace among residential and commercial properties. Heated driveways are fully automated and provide labor-free snow removal without the need for salt and other snowmelt chemicals. They can be easily customized to suit your particular layout and snow melting needs. Customers have a wide variety of snow melting system options.
"Snow blowers, shoveling, and plowing are cumbersome ways to clear driveways," stated Bryan Morris, National Sales Manager of Warmzone. "Homeowners are installing radiant heated driveway systems instead. They're safer and very energy efficient."
Warmzone Radiant Snowmelt Systems
Warmzone, a trusted leader of radiant heat and snow melting solutions, offers premier snow and ice melting systems at the best prices available. You'll not only receive top quality snow melting products and support, but Warmzone will also design your system so that it meets the specific needs of your property in the most efficient manner possible. Warmzone covers every aspect of your snow melting system, from concept to completion.
ClearZone snow melting cable is a the most rugged heating cable available, built specifically for snow melting applications such as driveway heating, heated sidewalks, porches, ramps and more. (Warmzone also offers a comprehensive selection of roof de-icing solutions and radiant floor heating systems.) Installing under-pavement radiant heat systems for residential and commercial properties provides a number of benefits, including enhanced safety, thereby reducing the risk of personal injury.
Warmzone snow melting systems can be installed in a variety of applications, including concrete and hot asphalt. ClearZone heat cable is designed to produce 30-50 watts per square foot. Radiant heated driveways and snow melting systems are programmable and provide an energy efficient, fully automated process for your heated driveway. Under pavement radiant heating snowmelt systems are similar to indoor radiant floor heating systems, yet designed to withstand the rigors of harsh outdoor environments for a lifetime.
Comparing Electric Heated Driveways and Hydronic Snow Melting Systems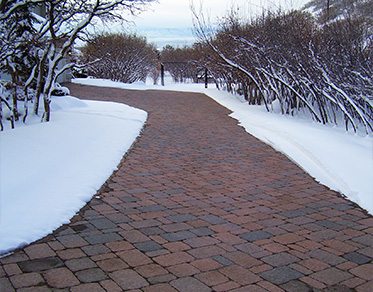 Unlike hydronic systems that generate hot water and pump it through a closed loop of plastic PEX tubing, electric radiant heat systems utilize heat cable that is embedded in the concrete or asphalt to quickly radiate heat evenly across the surface and surrounding area. Most electric radiant heat systems incorporate an automatic sensor that detects inclement weather and activates the system. Electric radiant heat tends to be more efficient, require less maintenance, and heat surfaces quicker than hydronic systems. Depending on your utility rates however, hydronic snow melting systems may offer a slightly lower operational cost. Regardless, installing a heated driveway is a tremendous investment that will enhance the value of your property.
The cost to maintain an electric heated driveway is typically much less than hiring someone to manually remove the snow. Your concrete lasts longer because salt or harsh chemicals (or snow plows) are not being used to melt or remove ice and snow. Electric radiant snow melting systems are also simple to install, extremely durable, and require no maintenance.
Heated driveways not only enhance safety and increase the value of your property, but offer convenience and peace of mind. Driving your car out of the driveway doesn't have to be an adventure every morning, and you shouldn't have to put on your snow shoes to retrieve the morning newspaper. Check out the driveway heating and snow melting options for your home today.
For more information about driveway heating systems, call a friendly radiant heat professional at 888.488.9276.