Radiant Heat Snow Melting for the Car Wash Industry
Increase Your Business and Reduce Your Risk
Radiant heating systems have gained widespread acceptance among homeowners as an alternative to forced air systems. Radiant heat is typically installed under the floor, transferring heat through the floor and effectively taking the chill out of cold surfaces like tile and marble flooring. Now, the same concept for interior radiant heating is being applied to exterior applications as a way to remove snow and ice not only from driveways and sidewalks, but other areas as well.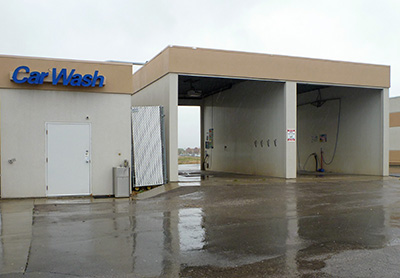 One particular industry benefiting from radiant snow melting systems is the car wash industry. Car wash businesses across the country are installing electric radiant heat cables to warm concrete and melt hazardous snow and ice. Nate Johnson, a national account manager for Warmzone stated, "I often receive calls from business owners looking for reliable, maintenance-free methods to remove snow and ice from car wash bays. Their priority is to avoid expensive liability suits against their businesses, and automated radiant heat systems provide the best solution possible."
As a result of frequent accidents due to ice accumulation on the pavement in and around car wash bays, the car wash industry has become a prime target for injury lawsuits. One car wash visitor was recently awarded $634,000 after slipping on black ice at a car wash in Charleston, West Virginia. Owners of car wash facilities in cold regions across the country are taking action to protect themselves by installing radiant snow melting systems to prevent ice and snow from accumulating around the bay during cold winter weather.
There is no foolproof method or guarantee for preventing liability lawsuits; however, electric radiant snow melting systems can play a vital role in protecting consumers - and car wash owners - from accidents, and the ramifications of personal injury accidents.
While residential heated driveways are becoming commonplace throughout cold regions of the country, radiant snow melting systems are also proving to be a valuable means for eliminating dangerous snow and ice buildup around businesses and car wash bays. Salt and other non-environmentally friendly snowmelt chemicals require manual application and usually have a limited temperature range in which they are effective. Snow shoveling or applying salt around the car wash also requires constant upkeep - unlike automatic radiant snow melting systems. And removing roadway salt is also one of the principle reasons consumers frequent car wash bays during the winter.
If you own car wash bays and want to attract steady business with minimal liability risks, consider installing an electric snow melting system. You won't have to constantly chisel ice and shovel snow or apply salt during the winter months, and you can rest easy, knowing that ice is being prevented from accumulating at your car wash.
Warmzone has helped car wash owners and many other business owners throughout Northern America find sensible, cost-effective radiant heat solutions for a variety of snow removal needs. For more information about radiant heated driveways and other snow and ice melting solutions, contact us via email or call Warmzone at 888.488.9276.